Women's Fashion Boutique Scout & Molly's Opens Newest Location in Woodbury
John Mitty

Thursday, May 11, 2017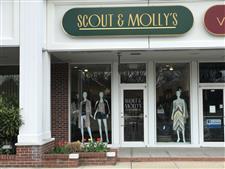 Woodbury, NY - May 11, 2017 - On May 13 Scout & Molly's will celebrate the grand opening of its newest franchise location in Woodbury Long Island, NY. The women's apparel store featuring stylish clothing and accessories opened its doors in April and now it is time to celebrate! While you shop during our grand opening event, you can enjoysips and hors d'oeuvres, giveaways, surprises and incentives.
Exclusive specials include a drawing for a $100 Scout and Molly's boutique gift card that can be applied towards a future purchase. Additional drawing with surprises and incentives will be available for customers who purchase $50 in merchandise.The grand raffle drawing to win a manicure/pedicure and full body massage will be eligible after a $225 purchase.
To continue the festivities, customers who come in with their mom on Mother's Day will receive special incentives as well.
The new 1000 square foot boutique is located at 7959 Jericho Turnpike in the Woodbury Village Shopping Center. This Scout and Molly's location offers upscale designer women's clothing as well as original chic designs. The new location is one of many Scout & Molly's opening across the country over the next few months.
"Opening this new Scout & Molly's is a dream come true for me. I fell in love with retail as a teenager and owning my own boutique has always been something I strived for. I know how difficult it can be to find the right outfit and the concept to shop in your best friend's closet resonated with me. I look forward to dressing the women of Long Island and establishing a boutique with professional and personal styling support", said The Woodbury Scout & Molly's owner, Florence Wong-Leipzig.
The grand opening event will take place May 13 at Scout & Molly's, 7959 Jericho Turnpike Woodbury, NY from 10am- 6pm.
###
ABOUT SCOUT & MOLLY'S
Scout & Molly's, based in Raleigh, NC, launched in 2002 and was the dream of entrepreneur and Founder, Lisa Kornstein. Scout & Molly's is where today's transcending woman goes to find that special little something that'll fit just right. Our boutiques are merchandised with a simple rule in mind: "No style fits all," which is why maintaining individuality while dressed in the latest trends, is a necessity for all of our customers. Our locations are home to your favorite designers and unique finds that are sure to produce both confidence and compliments. Be sure to follow our location on Facebook and Instagram, scoutandmollyswoodbury, to stay up-to-date on new styles, seasonal announcements, specials, deals and outfit ideas. For additional information visit: woodbury.scoutandmollys.com.
jmitty@longislandyellowpages.com Appears In:
Local Steals, Deals & More
,
Business News
,
Local Events
,
Press Releases
John Mitty
Recent Columns | E-Mail
Press releases are John's expertise and he scours the web trying to find the most recent press release updates on what's happening on Long Island. If you have a press release that you'd like to share please send it to jmitty@longislandyellowpages.com.