Fire Island Yellow Pages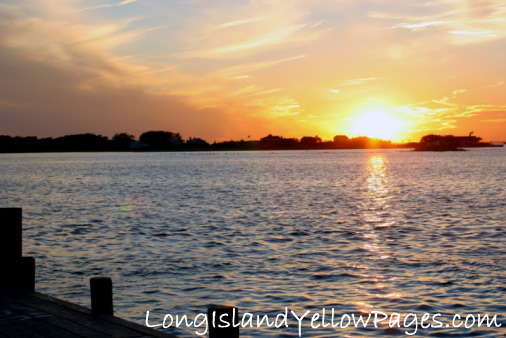 Fire Island is a barrier island that sits about 5.5 miles off the southern shores of Long Island in Suffolk County. At one time the island was probably 60 miles long, stretching all the way from Jones Island to
Southampton
. However, ocean storms and erosion created break-throughs that reduced Fire Island to about 32 miles in length and less than 1 mile in width. Its land mass is about 8.74 square miles that sits just 3 feet above sea level. Interconnected bays separate the island from the mainland.
Fire Island is only accessible by the Robert Moses Causeway on the western end and the William Floyd Parkway on the eastern end.
Water taxis
and
ferries
travel from
Patchogue
,
Bay Shore
and
Sayville
, transporting visitors back and forth through the hectic summer holiday season. Private boats are often seen docked around the island as well. Passenger vehicles are actually prohibited except for emergency, service and construction transportation. There are no paved roads. Residents and visitors alike either walk, bike or use golf carts to move about. Visitors can park their vehicles in the Robert Moses State Park lot.
Most of Fire Island is an undeveloped, protected environment that includes Robert Moses State Park, Smith Point County Park and National Seashore. Towns include
Babylon
,
Brookhaven
,
Islip
and six small islands. There are also two actively gay communities.
A LITTLE HISTORY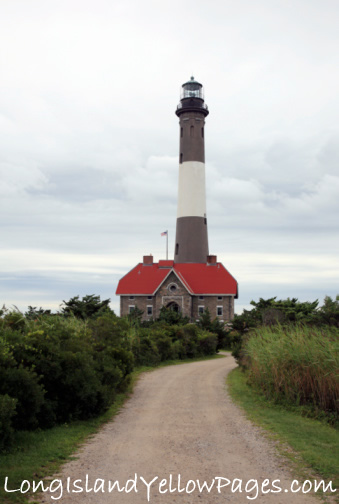 Earliest records indicate that William Tangier Smith held title to this property in the early 1600s. Isaac Stratford established a whaling station on Whalehouse Point in 1653. Thirty years later the Fire Island Inlet broke through and grew to 9 miles in width before receding.
The first use of the name Fire Island is mentioned in 1789, but its origins are unclear. It could have come from the fiery sunrises and sunsets, a misuse of the name Fire Island Inlet, a reference to fires set by pirates to lure ships to shore or for the poison ivy rash that unsuspecting wanderers may discover. In 1795 Jeremiah Smith built the first lighthouse at Cherry Grove.
During the late 1700s and early 1800s, stockades were built on the shores of Fire Island to contain slaves being delivered or awaiting transport to the Barbados or the Deep South. Unfortunately, the slave trade was a lucrative business carried out with enthusiasm in New York until it was finally outlawed in 1827, at which time many slaves were sold and transported to the southern states and islands rather than be freed.
In 1825 the Federal government authorized the building of the Fire Island Lighthouse on what was then the western tip of Fire Island near Robert Moses State Park. It would be the first sight of America for more than 12 million migrants who entered the country through Ellis Island and New York Harbor. Today, the lighthouse actually sits about 6 miles back from the tip of the island as ocean currents have extended that section by piling more and more sand. The lighthouse that stands there today replaced the original one in 1858.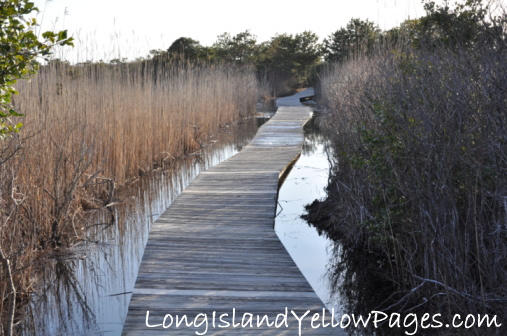 Ocean Beach was established in 1908. In 1921 bungalows were ferried over across Great South Bay. During a Nor'easter in 1931, the Moriches Inlet broke through. A fierce hurricane in 1938 almost devastated Fire Island. By the 1950s this resort area had become a kind of Bohemian hangout for artists, musicians and performers from New York City. Beach cottages sprang up overnight.
In 1964 President Lyndon B. Johnson signed a bill protecting the Fire Island National Seashore, all but the most western 4.5 miles. Most recently, in 2009, a Beach Renourishment Project moved 1.8 million cubic yards of sand onto the shore front at an estimated cost of $23-$25 million dollars. Fire Island residents supported the project by agreeing to higher taxes to help pay for it.
RESIDENTS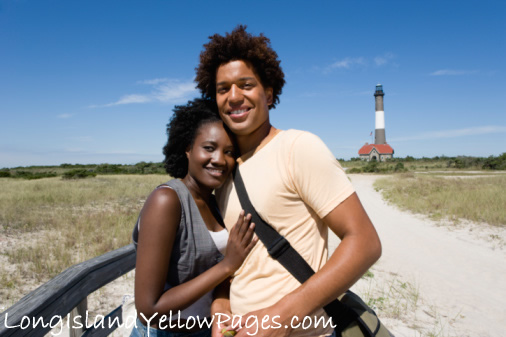 In 2007, the year-round population on Fire Island was less than 500. Most New York City property owners live on the island during the summer and commute on the weekends throughout the year. The median age is 42 and the median household income is $93,857, significantly above the national and state averages. Median house or condo values have also increased from $272,000 in 2000 to $604,033. The cost of living index is 129.4 which is high, but not as elevated as other communities on Long Island. Residents living below the poverty level are 3.1% of the population and 2% are unemployed.
The white population is by far the majority at 94.5%. Hispanics account for 2.9% and Asians .6%. The white population has dominant heritages of Irish (26%), German (23%), Italian (16%), English (10%), Russian (9%) and Scottish (5%). Less than 2% of the population is unemployed. Ninety-one percent have high school diplomas and 40% have bachelor's degrees. Of the 68% who consider themselves to be religious, 76% are Roman Catholic.
The two active gay communities on Fire Island are Cherry Grove and Fire Island Pines. The latter owns some of the most expensive real estate on the island and 2/3 of the
swimming pools
. The one square mile has 700 homes as well as entertainment spots. Made famous by male model John B. Whyte in 1960, the community caters to gay men age 20-50. Cherry Grove, or "The Grove" as it is more commonly known is considered the oldest and first GLBT community in the United States. In addition to homes, there are restaurants and various entertainment venues. Clothing at local
long island beaches
on this part of Fire Island is optional.
ECONOMY AND INDUSTRY
Fire Island's industry is directly related to maintaining its tourist base. Construction accounts for 35% of the jobs. Education, public administration and
real estate
are also important. Boutique shops, restaurants and
hotels
attractions and other services are all important components of the tourist industry here.
POINTS OF INTEREST
Fire Island National Seashore - Nature trails, beaches, boating, fishing
Robert Moses State Park - Pier fishing, golf, 5 mile beach, 18 hole golf course
Atlantique Beach - Public marina, lifeguards at beach, game courts, snack bar
Fire Island Lighthouse and Museum - View of New York City on a clear day
Sunken Forest-Sailor's Haven - Hiking through a 250 year old maritime forest
DID YOU KNOW?
It took 80,000 bricks to build Fire Island Lighthouse.
Fire Island is one of the sunniest places on earth because of the angle of the sun's reflection on the waters.
You can find a forest of holly trees on the island.
Fire Island is considered a powerful place by Wiccans/witches who worship Lucifer as the sun god.
MORE INFORMATION
Video