Long Island Wineries & Vineyards
LONG ISLAND WINERY LOCATIONS & CONTACT INFORMATION
Ackerly Pond Vineyards
1375 Peconic Lane
Peconic NY 11958
631-765-6861
The Ackerly Pond Vineyards is one of the oldest in the region, being in operation for over 100 years. The vineyards grow grapes that are available to purchase in season or you can get a bottle or two of wine from the shop. There is a tasting room available for sampling all of the fermented wines from the winery. The vineyard offers a wine club, which allows members entrance in to free tasting events and to get discounts on purchases. Membership can be two or four or even more bottles of wine shipped to the home address. Members also receive discounts on all types of wine.
Baiting Hollow Farm Vineyard
2114 Sound Avenue
Baiting Hollow NY 11933
631-369-0100
The Baiting Hollow Farm and Vineyard is an excellent place for an outdoor wedding. Its extensive property features picturesque views and a serene setting. The tasting room serves white and red wines that have won many awards. Winery tours are available by staff members who are knowledgeable on the entire process. Bands and musicians will play at special events making the night out a real treat. Baiting Hollow is a working farm with horses and other animals in view from the tasting room. Wine club members get a discount on events and wine purchases throughout the year depending on what level they choose.
Bedell Cellars
36225 Main Road
Cutchogue NY 11935
631-734-7537
Bedell cellars is a winery with a tasting room, a location for outdoor weddings and a hall available for party rentals. Wine is made on site with state of the art equipment using tried and true historical recipes. While tasting the wine in the tasting room, visitors can also enjoy art by local and national artists hanging on the walls. A wine club is available for frequent guests and offers a discount on all purchases. Wines are also available for order by members. Catering is available for parties and weddings of up to 200 on the premises any time of the year.
Bouke Wines
35 Cox Neck Road
Mattituck NY 11952
877-877-0527
Boukes Wines come in four different varieties that can complement any type of meal or appetizer you are serving. The company offers red, white, rose and dessert wines under their label. The wines all have hints of different fruit flavors, making them easy on the palette and enjoyable as a combination with many types of foods. The wines are available in many areas of the city, but only regionally. The wines are award winning and popular, so there have been seasons where supply is limited. Try the Bouke wines with your dinner and see if it becomes a new local favorite.
Bridge Vineyards
20 Broadway
Brooklyn NY 11211
718-384-2800
The Bridge Vineyards is a location which has a vineyard and a winery in one location. Quality wines are available for tasting in a tasting room in many different styles, from sweet to extra dry. There are two different wine clubs to sign up for, depending on your taste preferences. Wines are shipped from the winery to your home with membership. The vineyard is not open to public tours, but the winery has tasting rooms which are open on a daily basis and have different offerings depending on the season and the availability of wines from years' past.
Channing Daughters Winery
1927 Scuttlehole Road
Bridgehampton NY 11932
631-537-7224
The Channing Daughters Winery is one of the few places left where you can still wine old fashioned wine stomping. Those grapes are then taken to be fermented and turn in to one of the many kinds of wine produced on site. The winery is also available for private parties, including small weddings. There is a tasting room on the premises which also offers tasting events and themed meals. Wines are tasted daily and members are allowed in for free. The wine is also sold in local and regional stores across the city if you can't make it to the winery.
Christiano Family Vineyards
2885 Peconic Lane
Remsenburg NY 11960
631-765-6404
The tasting room at Christiano Family Vineyards is a great gathering place for friends or when you just want to go and have a great glass of wine. Many of the wines produced in the vineyards have been award winning flavors. The wine is available in the tasting room or in select locations nearby the winery, but it is not widely available in city stores. There are many wineries lined up and they often work together with tasting packages for the fall season. The vineyards are also a great place to host a private party or to have an outdoor wedding.
Clovis Point Winery
1935 Main Road
Jamesport NY 11947
631-722-4222
The Clovis Point Winery is known for its beautiful setting. Weddings and private parties are held out in the back on a deck with a spectacular view of the vineyards. There is also a tasting room which is exquisitely decorated to make you feel comfortable and relaxed as you try the many different types of wine available. For members, there is a VIP room for small tasting parties and special events. Members of the wine club are offered discounts many times a year and can come to sampling events for a lower rate or get wine bottles shipped to home.
Comtesse Therese
Union Avenue and Route 105
Aquebogue NY 11931
631-871-9194
Comtesse Therese uses an old fashioned process to grow their fruit and then to make the wine. The process makes for slow wine production but the flavor is exquisite. Wines from these grapes are flavorful and award winning. They produce many styles of wines that can be tasted in the tasting room. Local wineries are also featured in the tasting room, drawing attention to the area. The grounds are available for rent for weddings or private events. The view is outstanding and makes for a nice site for a picnic or just an evening away where you can enjoy a nice glass of wine.
Corey Creek Vineyards
Main Road, (Rt. 25)
Southold NY 11971
631-765-4168
The Corey Creek Vineyards have a beautiful tasting room that is open seven days a week. There is a deck to overlook the vineyards which can be used for private parties that are smaller in nature. The grapes are picked from the vineyard and then taken to a neighboring winery where they are processed. They have created award winning wines that include fruit and herbal flavors. Many types of wines are available throughout the year until production has run out. A small gift shop is available for gifts year round or if you need to stock up on your favorite kind of wine.
Croteaux Vineyards
1450 South Harbor Road
Southold NY 11971
631-765-6099
The Croteaux Vineyards are on historical farm grounds. The vines are on the lush grounds and give a nostalgic feeling as they are nestled amongst the outbuildings. The tasting room not only offers traditional wines, but the rose wines that are unique to the area. Other vineyards buy fruit grown at the vineyards so they can also make rose wines. There is a hint of sweet flavors added in, making it a first choice for people who like sweet wines. The tasting room is open year round can also be used for private parties or small receptions during the summer and spring.
Diliberto Winery
250 Manor Lane
Jamesport NY 11947
631-722-3416
The Dilberto Winery has an incredible tasting room that visitors will talk about for long after their visit. It isn't a bar like one might expect, but a restaurant looking room with tables and chairs. There are red and white wines to try that are available seasonally. The grounds are available to rent for private parties and small weddings. The outdoor area can seat guests for a party or if you want to have a picnic with an incredible view on a beautiful fall day. The winery is decorated in an Italian style, based on the owner's heritage and personal tastes.
Duckwalk Vineyards North
44535 Main Road
Southold NY 11971
631-765-3500
The Duckwalk Vineyards are in the same area as all of the other popular wineries, making it a great destination stop along the way. Many of the wineries work together on creating events to gain more attention to the quality wines produced locally. The tasting wine offers red and white varieties, but also an ice wine which is very tasty and popular. There are bands and local musicians brought in during the year for you to enjoy on a date or when with a group of friends having a night out. The wine club allows you a discount on wine purchases and tasting events.
Harbes Family Farm
715 Sound Avenue
Mattituck NY 11952
631 298 0800
The Harbes Family Farm and Vineyard is more than just a winery. It is a place to go where families can enjoy hayrides in the fall or special trick or treating parties around Halloween. There are grounds outdoors that can be used for a wedding or for a private party. There is a wine tasting room where all of the varieties of wines produced on site can be tasted. Food is available during the fall season to enrich your fall when you want to have a great family experience and still get to have an adult indulgence.
Jamesport Vineyards
1216 Main Road, Rte. 25
Jamesport NY 11947
631-722-5256
The Jamestown Vineyards are a great location to share a bottle of wine with a friend or a spouse and get some great food to eat with it. The tasting room on the grounds has award winning wines in both red and white varieties. The vineyard also offers tours and different levels for novice wine lovers and for those who are more experienced in the process. During the summer, live musicians play outdoors and families can enjoy the weather and company and their glass of wine. Private parties and weddings can also be held outdoors on the beautiful grounds.
Jason's Vineyard
1785 Main Road
Jamesport NY 11947
631-238-5801
Jason's Vineyard covers 20 acres of prime real estate on Long Island. Its beautiful setting makes it popular to have private parties and events during the summer and fall months. The vineyard produces superior grapes because of how they were planted and how they are harvested. The wines produced have been award winning for many years. There are many types available for sampling in the tasting room. Membership allows for discounts on events and wines that can be shipped to your home. The vineyard offers wines across many flavors, from dessert wines to dry flavors that work better when aged.
Laurel Lake Vineyards
3165 Main Road, Rte. 25
Laurel NY 11948
631-298-1420
The Laurel Lakes Vineyards have become a popular location for weddings. The beauty of the building makes for a great picture location. It also works well for all types of parties or events you want to host in a unique spot. In the spring and summer there are live musicians playing while you enjoy the wine on the outdoor veranda. The tasting room serves up all of the varieties of wines produced on the site. Wine tasting events are held throughout the year to sample new wines and to experience different flavors with food pairings that you might not have known.
Lieb Family Cellars
35 Cox Neck Road
Mattituck NY 11952
631-298-1942
The Lieb Family Cellars are known for their award winning wines. Their grapes are unique because they are completely herbicide free. The grapes are pressed in to a variety of wines that can be tasted in the room onsite. Wine is only available from the winery. There are different levels of memberships to choose from and each level will get you certain perks like discounts and a set number of bottles of wine delivered to your door. There are many wine tasting events and specialty dinners which can be enjoyed on the grounds. Private parties and weddings can also be booked at the winery.
Long Island Meadery
1347 Lincoln Avenue
Holbrook NY 11741
631-285-7469
The Long Island Meadery doesn't ferment wine, but a drink that is a little bit different called mead. Mead is produced from honey and is a drink that has been around for centuries. It is typically a little stronger than wine in alcohol content but it has a sweeter flavor. The grounds where the mead is produced has tasting events to try all of their recipes. There is a mead club available where you get different levels of the beverage depending on what membership you choose. There are also discounts to tasting events and other parties at the site.
Loughlin Vineyards
South Main Street
Sayville NY 11782
631-589-0027
The Loughlin Vineyards is one of the locations to the inner city itself, but it still is able to make a great batch of wine. They make several varieties, from sweet to semi and dry wine. There is a large mansion and a tasting room on the grounds, where tours are offered and tasting events can happen in any season of the year. The beautiful grounds are the perfect setting for an outdoor wedding or party. Guests are allowed to picnic in marked areas of the grounds. Many wines made on site have been award winning and remain popular with guests.
Macari Vineyards and Winery
150 Bergen Ave.
Mattituck NY 11952
631-298-0100
The Marcari Vineyards is a great place to have a wedding because of the proximity to the beach. When you want a breathtaking view for guests or a private party, it also makes a wonderful spot. There is a tasting room that serves up all of the varieties of wines grown on site from all of the grapes. The building is also visually appealing because of the porch and the view. The wines served inside are award winning. Parties of up to 100 people can be accommodated inside or larger parties outside if it is weather permitting and not high harvest.
Martha Clara Vineyards
6025 Sound Avenue
Riverhead NY 11901
631-298-0075
The Martha Clara Vineyards are very old and have a reputation for producing high quality, flavorful wines. The tasting room is open daily all year long, with a variety of wines produced on the premises. During the summer, there are concerts on the grounds for all guests to enjoy. The setting makes the vineyards a great place for a wedding or a party. Gift baskets with a variety of wines are available as well as wine accessories like glasses and stoppers. Wines are not sold locally, so visit the winery to stock up on your favorite variety if you are having a gathering at your place.
Mattebella Vineyards
46005 Main Road (Route 25)
Southold NY 11971
888-628-8323
Mattebella Vineyards have some of the most award winning wines in the region. There are wine tastings offered various times throughout the year. Red and white wines are tasted in addition to a light bit of food to cleanse the palette. Tours are offered through the vineyards and in the winery for guests who want to see and learn all about grapes and wine. Tours are educational and describe the process in detail from the beginning to the end of the process. There are areas where private parties and weddings can be held so there is a breathtaking view.
One Woman Vineyards
5195 Old North Road
Southold NY 11971
631-765-1200
One Woman Vineyards is owned and operated exactly how it says, by one woman. Wine is still made by hand and the reward is a delicious blend of grapes and flavors. There are tours through the vineyard and wine tasting events handled most of the year. The building overlooks the vines and grapes and provides a great setting for a wedding or a private party. The tasting room is open Thursday thru Sunday or the wine can be purchased in select locations throughout the city. Wine availability might be limited in peak season due to popularity and the low quantities produced.
Osprey's Dominion Vineyards
44075 Main Road, Rte. 25
Peconic NY 11958
631-765-6188
The tasting room at Osprey's Dominion Vineyards are open year round, with the exception of holidays. White and red wines are served that have been award winning. Bring your own food and enjoy a picnic lunch on the lush grounds or sit on the ">patio furniture overlooking the vines. During the summer and spring, musicians are brought in and guests can enjoy concerts as they sip drinks. The grounds are beautiful for an outdoor wedding or for private events like anniversary or birthday parties. Private parties can have special imprinting done on labels so their event is even more memorable.
Palmer Vineyards
108 Sound Avenue, Rte. 48
Riverhead NY 11901
631-722-WINE
The Palmer Vineyards are a great place to host a party or to have a wedding in a beautiful setting. The grounds can be rented out for any event during the summer and fall months. There are family activities like hay rides and trick or treating in the fall. During the spring, the vineyards cater to children and host a variety of spring activities like a visit from the Easter Bunny, egg hunt and spring themed parties for every one. There are also picnics and wine tasting events held at various times of the year when wine has been bottled.
Peconic Bay Winery
31320 Main Road, Rte. 25
Cutchogue NY 11935
631-734-7361
The Peconic Bay Winery offers wine tours and tasting events all year long. There is an extensive selection of wines in the tasting room and staff members are highly trained to answer questions on food pairings. Classes are offered occasionally that teach how to select wines with different types of food. Old wines in addition to the newer wines are available from the cellar. The grounds are a beautiful location where weddings and private parties can be held. There is also property for rent on the site near the beach. It makes for a perfect bridal suite or anniversary surprise for your spouse.
Pellegrini Vineyards
23005 Route 25
Cutchogue NY 11935
631-734-4111
Pellegrini Vineyards are nestled amongst the rolling hills on the island. If you want a beautiful setting to enjoy a glass of wine or need a unique venue for a private party, then this is the location for you. The wine tasting room is where you can sit and relax and try a variety or two of wines. If education is what you want, then go on the tour and learn how to make your own wine. Tours show off all areas of the winery for you to enjoy with your friends or your family and then you can purchase a bottle of wine to take home and enjoy.
Pindar Vineyards
Main Road, Rt. 25
Peconic NY 11958
631-734-6200
Pindar Vineyards grows 1y types of grapes over their 500 acres of vines. This is one of the highest producing vineyards on the island, making over 70,000 cases of wine each year. The wines are available in many of the regional wine stores and restaurants in the area. The Port Jefferson location has the full service tasting bar, whereas this location only produces and gets the wine ready for bottling and distribution. Tours are available on a limited basis during the summer months before high production begins. Tasting events are occasionally held on the premises by the majority are held at the other location.
Pugliese Vineyards
4515 Main Road, Rte. 25
Cutchogue NY 11935
631-734-4057
Pugliese Vineyards is unique in that they don't only offer a taste of wine, but you can sample champagne and port as well from their tasting room. The tasting room and the outdoor area work well for an outdoor wedding or if you want to have a private party with a beautiful backdrop. The tasting room is open daily, with the exception of holidays. They offer snacks with wine tasting and discounts for members of the wine tasting club. The vineyards are known for their secret messages on the gold rims of the glasses sipped from by all of the guests.
Raphael
39390 Main Road, Rte. 25
Peconic NY 11958
631-765-1100
Raphael is a place where you can have a small reception or a large conference if you have a group of people who want to do some planning. The relaxing setting makes it perfect for corporate retreats or family day trips. The tasting room is run by staff members who know all about wines. They can answer questions about the reds and white you are trying out. There is a wine club for frequent visitors that allows the guest a discount on wine tasting events and bottles of wine purchased throughout the year. The wine is award winning and sold regionally in many stores.
Roanoke Vineyards
3543 Sound Avenue
Riverhead NY 11910
631-727-4161
The Roanoke Vineyards have been open for three decades, producing award winning wines for visitors that are very popular. There is a tasting room which offers wines from three local wineries for guests to enjoy. The room is open daily and offers red and white wines for every palette. Old fashioned methods of fermenting and aging wine are still used, giving the wine a unique flavor. Wines are only available on the grounds and not in stores anywhere else. A wine tasting club allows members to get discounted prices on wines and wine tasting events throughout the year during the grape season.
Sherwood House Vineyards
2600 Oregon Road
Mattituck NY 11952
212-828-3426
The Sherwood House Vineyards is a small, family run operation in a beautiful setting. It is family run with a personal touch if you want to host a party or have a wedding on the grounds. There is a tasting room which is open all year long and 7 days a week, excluding holidays. There is a wine club available for enthusiasts who want to enjoy more wine for a lower cost. Discounts are given to members and the more wine purchased, the higher the discount is. There are special wine tastings just for members throughout the year as well.
Shinn Estate Vineyards
2000 Oregon Road
Mattituck NY 11952
631-804-0367
The Shinn Estate Vineyards have been in business for over fifty years. It is the perfect setting for a beautiful outdoor wedding or reception. There is a wine tasting room with tours offered in the cellars and in the winery itself. Wine tasting is available seven days a week with the exception of holidays. Events can be catered so the food selection matches the flavor of the wine. Wine can also be purchased in the city if you do not have time to make it out to the winery in time before your own event at home or with friends.
Shinn Estate Vineyards
2000 Oregon Road
Mattituck NY 11952
631-804-0367

Sparkling Pointe
39750 CR-48
Southold NY 11971
631-765-0200
The Sparkling Pointe is a unique setting where you can taste wine or host an outdoor event for friends. A VIP tasting room is available for parties or when not in use, it serves as a room where one can relax and sample several varieties of wine. There is also a larger room for big parties or banquets that can serve 200 or more guests. The facility caters to hosting events and finding the best wine to complement the food selections. The wine can also be found in a select number of local establishments during the season if it has not run out of production.
The Grapes of Roth
P.O. Box 114
Sag Harbor NY 11963
631 725 7999
The Grapes of Roth is a unique name based on the movie, with a twist. The owner is a self taught wine maker, with experience at many local wineries. There are many award winning wines produced at the winery, with some having a blend of fruit flavors in them. The wines are so popular there is usually a waiting list for bottles because they do not last long and sell out as soon as they are bottled. There is a small tasting room, however, since the wines are produced in smaller quantities and do not build up, there is little opportunity to taste many of the flavors. The grounds are beautiful for a visit and you can always check to see if there is a bottle or two of fine in stock if you happen to be driving by.
The Old Field Vineyards
59600 Main Road, Rte. 25
Southold NY 11971
631-765-0004
The Old Field Vineyards offers tours through the vineyard and in the winery. They have a tasting room where private parties can be held as well as tasting events through the year. Music is available during select times and at different times of the year, weather permitting. Staff gives lessons on learning the flavors of wine and how to start making your own wines at home. The big red barn is what has made the site popular to all who stop to visit. Weddings can be held during the summer months along the beachfront on the grounds.
Vineyard 48
18910 Route 48
Cutchogue NY 11935
631-734-5200
Vineyard 48 is a location where wine is made and sold, but where there is always something going on. Besides a tasting room which is open seven days a week, there is a courtyard where music is played on weekends and at night. The outdoor area is perfect for weddings or it can be rented out for private parties. Tours to stroll through the grapes are available weather permitting. Twelve different wines are fermented at the winery and are available to taste. Wine club members receive bottles four times throughout the year and discounts on tasting events and other bottles of wine.
Waters Crest Winery
22355 Rte. 48, Unit 6
Cutchogue NY 11935
631-734-5065
The Waters Crest Winery is known for its unique tasting room. Marble counters and old wine barrels give a distinctive feel to the room that makes everyone comfortable and relaxed. Sample the wines that are completely produced in house, from the grapes to the labeling. Tours are available through the winery on a regular basis. There is a wine tasting club that allows you discounts on wine and tasting events. Members are even allowed to sample wine straight from the barrel. The site is also great for weddings or private parties during the summer and fall months when the weather is seasonable.
Wolffer Estate
139 Sagg Road
Sagaponack NY 11962
631-537-5106
Wolffer Estate produces some of the best white and red wines in the area. They are so confident in their wines, they even offer classes and training to people who want to create their own wines. There is a tasting room where all of the varieties can be tasted. They even offer cooking classes so the right foods can be made for the right flavor of wine. The winery can be rented for weddings and small parties. Wine club members receive discounts on wine and tasting event parties throughout the year. They also have stables on site where horses can be purchased.
More Long Island Vineyard Listings
HISTORY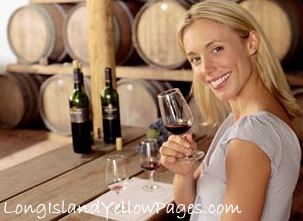 In an unusual twist of fate, it may have been the idealistic expectations of a young married couple, freshly graduated from Harvard University that sparked the evolution of the wine industry on Long Island. Louisa and Alex Hargraves had developed a passion for French wines and naively believed they could create the same quality and elegance on their Cutchogue property on the North Fork of Long Island.
It may have been providential that they purchased those 66 acres near John Wickham, a local fruit grower with family roots in Long Island soil that dated back to the 1600s. While he was more than a little discouraging in his assessment of the potential for the Hargraves Vineyard to succeed, he proved an invaluable and generous resource for the hopeful young couple.
Wickham's crops were proof that the more delicate vinifera European grapes could not only survive but could thrive on Long Island. He had been growing them as table grapes for his own use and his farm stand since the 1960s. Wickham's experience would be key to the implementation of the Hargraves' project. Additionally, they relied on a basic viticulture text from UC Davis, Virgil's essays on agriculture and the more general trial and error approach. And errors were made.
Trying to imitate the growing model of California failed because Long Island is not as hot. On the other hand, modeling the vineyard techniques of the Finger Lakes Region of New York and its growing season did not work because Long Island is not as cold. Eventually, growers would realize that Long Island's climate and terrain most closely resembled that of certain areas of France. Even the original vinifera vines ordered from a California nursery and guaranteed to be virus-free had to be pulled because they were, in fact, infected with a virus.
In spite of set-backs, the Hargraves planted 17 acres in 1973 and thus began Long Island's wine industry. The following year, working with David Mudd, they produced their first Merlot, a forerunner of what would be the most prolific grape for this region. Mudd was a retired airline pilot who started his own vineyard at the same time as he caught the insatiable enthusiasm of the Hargraves. He would later go on to found his own vineyard installation and management company that has been responsible for setting up more than one half of the current vineyards on Long Island. He has been a huge fan of Merlots and strongly advocated planting this varietal over others.
By 1978 The Hargraves had a Cabernet-Merlot blend and just two years later they offered a Merlot varietal that would become the dominant red wine on Long Island.
During the 1980s other attempts were made to break into the wine industry, not for mass production and quick wealth, but for the idealistic goal of producing a world class wine on the east coast of the United States. The obsession with quality over quantity remains the governing principle for most of the wine producers on Long Island, even today. Quality harvests remain comparatively small and sell out quickly.
In 1988 an event happened that would energize and focus the fledgling wine industry on Long Island. A two-day symposium entitled "Bringing Bordeaux to Long Island" brought about the self-realization that the "terroir"-the climate, topography, soil and even the winemaking culture of Long Island vineyards was more closely related to Bordeaux, France than anywhere else in the world. It was truly an "aha" moment as growers began to appreciate their identity and potential, and this series of meetings was instrumental in moving the local wine industry to a new level of maturity. Both old world techniques and artisanal methodologies were shared and absorbed as part of what would become Long Island's unique brand.
In 1990, a second similar conference was held, but the focus this time was directed at supporting the production of Merlots as the most promising red wine varietals for the area. About the same time, money arrived on the island in the form of rich businessmen, doctors, real estate developers and executives who were financially prepared to invest in a new island opportunity. Existing farms that had failed and fallen into bankruptcy in the 1980s were scooped up, land was purchased and new vineyards were planted. Old potato barns were converted into wineries, and new buildings were erected to resemble old potato barns for the same purpose.
These new vineyard owners planted Merlot grape vines. They brought in expert Bordelaise consultants and experienced managers. Because they had already been successful in other business pursuits, their prior financial experience worked well in this new undertaking. Their goal was always to produce high quality wines, no matter how long that took, and fortunately for them, they were already wealthy enough to wait out the process. They shared one quality with the Hargraves-a determination to be successful and produce a product of which they could be proud.
In 1998, the world and specifically, New York City, finally had to sit up and pay attention to Long Island wine producers. In an international, blind tasting competition, the North Fork Lenz winery took almost every category against some of the most prestigious and well-loved wines of France. Since that time, The Forks of Long Island have been designated the fourth most important wine-producing region in the United States. The vineyards are maturing, producing increased complexity and aging of wine flavors. The local brands are now being recognized and requested across the country. Prices for certain bottles have risen notably, a telltale sign that someone knows about good wine.
Four factors have contributed significantly to the success of the Long Island wine industry.
The match of soil and climate for maximum crop production and ripening.
The ideal availability of transportation, initially through the Long Island Rail Road system.
The close proximity (70 miles) to New York City and massive distribution potential.
Employing world-class vineyard and winery management techniques and personnel.
Of the 33 licensed wine producers on Long Island, 28 are in the North Fork, 3 are in the South Fork (the Hamptons), 1 is elsewhere in Suffolk county and 1 can be found in Nassau County. Locals, especially those from outside North Fork prefer to identify the area inclusively as the "East End" as there tends to be a predominate focus on the majority of businesses in the North Fork.
The excellent growing soil on this most eastern part of Long Island was originally created by debris left behind when the Wisconsin glacier melted thousands of years ago. It has proven rich in nutrients and minerals, not only for potatoes and market garden crops, but for grapes. Although the topsoil is thin, the lower yields that it supports produce a higher quality grape which, in turn, possesses increased flavor concentrations.
The North Fork currently has over 3000 acres in vineyards. The sandy soil and slightly warmer climate due to increased sunshine seem ideal for the Merlots that are planted there. The maritime climate created by surrounding bodies of water guarantees summers that are not excessively hot, winters that are neither too long nor too cold and an average growing season of 210-220 days, similar to Bordeaux. With little danger of late spring frosts, early buds emerge safely. Cooler summers allow the fruit to ripen slowly, which keeps the sugar levels down and the resultant alcohol levels low as well. Experts say that this produces a more complex and aromatic wine flavor. Shading the vines is not necessary which also improves the quality of the ripening fruit.
The South Fork has slightly different growing conditions even though the two areas are separated by only a few miles. Frequent fogs tend to blanket this area, blocking earth-warming heat from the sun. The ground also tends to be damper and the silt/loam combination has poorer drainage. The Merlots that are grown here have a more restrained flavor and are less fruity, perhaps a bit more earthy and sensual.
As a red wine, many experts consider the Long Island Merlots to be a cut above the California variety. In an attempt to capture the market, California growers over-planted their vineyards, resulting in a generally reduced quality and appeal. The disparaging comments made in the movie "Sideways" unfortunately cast all Merlots into the same vat. The Long Island cousins are known to be lean, energetic, more refreshing and great as a food companion or a stand-alone pleasure.
While the Merlots may be the attention-getters on Long Island, they are definitely not the only quality wines on the block, or, in this case, in the vineyards. Cabernet Francs, Cabernet Sauvignons, white Chardonnays, Gewu?rztraminer, sparkling wines and rosés are all respected as well.
Not all wineries on Long Island grow their own grapes. Some choose to purchase from local vineyards. In fact, at least one South Fork winery uses North Fork produce. Others send their grapes to the Premium Wine Group, a Cutchogue service that "custom-crushes" according to individual client specifications. Both traditional hand harvesting and sorting methods are employed as well as modern mechanical harvesting which usually occurs near the end of October. Merlots tend to be forgiving and tolerant, allowing some room for setting a harvesting date, a real advantage for Long Islanders and their less-than-predictable weather.
More than half of the vineyards and wineries on Long Island are open to the public, and each location has a rich and unique heritage to share. Some of the more popular spots are:
Channing Daughters - Bridgton, South Fork. Both powerful Merlots and flirtatious whites are popular here. The wines are light-bodied and complex, but in limited quantity and quickly sell out.
Wolffer Estate-South Fork. Originally purchased as a weekend getaway, the business opened in 1997. It produces 15,000 cases annually from 55 acres. It also has 100 acres devoted to equestrian pursuits and makes cheeses.
Lenz-Some consider the Merlots from this vineyard to be the most interesting because of their intense mineral and anise flavorings.
Duck Walk Vineyards -The Damianos family is the largest wine producer on Long Island and also owns Pindar and Jayson's Jamesport Vineyards, offering more than 50,000 cases annually.
Long Island Merlot Alliance - This cooperative of 5 East End estate vintners is open to any grower who passes a certain standard of quality. After a controversial start, the co-op has focused on promoting Merlot as Long Island's premier brand.
Christiana Family Vineyards - Southold, North Fork. Relative newcomers with a small seven acre operation.
Macari Vineyards - Planting 200 of 440 acres, the Macari approach is directed towards being "stewards of the land." These vineyards are maintained as organically as possible including cattle manure, fish heads, horns, kelp and nettle tea all composted for fertilizer. Of the 17,000 cases of wine produced annually, 60% are consumed or purchased on site through the two tasting rooms. The remainder is sold to New York City and Brooklyn restaurants.
Long Island produces more than 500,000, 12-case bottles of wine for each vintage season. At least 1.2 million tourists visit the vineyards and wineries annually, during which as much as 50%-60% of total sales are made. Direct marketing by owners has encouraged people to visit the tasting rooms through both sponsored tours and private excursions. Because music, food, and entertainment are often included to draw in a larger customer base, there has been some concern by other non-agricultural businesses in the area, especially in Southold and Riverhead.
The bottom line is that tourism as a whole has profited by the influx of wine lovers from New York City and beyond. Wine clubs, are growing in popularity, but are not yet on par with those in California as revenue producers. New Asian sales may be opening up, especially in China where a taste for things Western appears to be growing. Since Long Island wines have now been internationally recognized and appreciated, they should claim some of these emerging markets. Young entrepreneurs, always eager to try a new product are also interested in the island's wines. As the vintages age, collectors will also be watching and waiting. All in all, the future looks very positive for Long Island wineries.
MORE INFORMATION